Raleigh, N.C. – Following Bruce Willis' announcement that he would be stepping away from acting after he was diagnosed with aphasia, there's been a lot of media buzz around the topic. For those who aren't familiar, aphasia is a communication disorder that affects a person's ability to use language in the forms of speech, writing, reading, and listening. What makes this a particularly challenging diagnosis for many is that it does not impact intelligence or memory. Having reached such a level of importance, even the governor's office is taking note, officially recognizing June as Aphasia Awareness Month.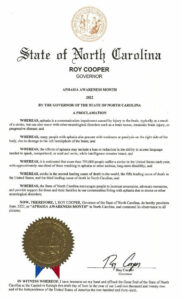 With all eyes on aphasia this month, the Triangle Aphasia Project will be launching a new website, which they worked with Cary-based MRN Web Designs to develop, and hosting their first in-person event in over two years.
Since individuals with aphasia can have difficulty reading and processing language, Triangle Aphasia Project's new website was designed with a top priority of addressing their audience's unique accessibility needs—with usability being their No. 1 priority. TAP looked at what their clients access their site for the most, and made those functions easy to find and easy to read or visually understand. Additionally, they added some design elements that increase readability specifically for individuals with aphasia, including large black and white text, avoiding text overlays, and using imagery and icons in tandem with words. The website will also feature videos where appropriate, like on the homepage to explain the organization, or on their "What is Aphasia" page to explain the condition. There is also a built-in accessibility tool that gives website users a range of easy-to-use modifications to choose from while navigating the site.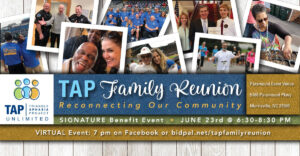 TAP Family Reunion
To further help TAP Unlimited, which serves individuals in NC with aphasia, Triangle Aphasia Project is hosting a TAP Family Reunion on June 23, 2022, from 6:30 to 8:30 p.m. at Paramount Event Venue in Morrisville. The event will allow TAP clients, friends, and caregivers to reconnect in person (or as virtual attendees)—and with WRAL's Brian Shrader MCing the event, the celebrity factor is sure to add a fun element for guests. Additionally, speech therapy students will be assisting with the silent auction and event engagement, and table materials will be inclusive with assistive resources for speech-disabled guests.
The TAP Family Reunion will also feature a wine wall with support from Lewis and Cindy Sheats of Short Walk Wines, while Smiths Smokehouse and Smoothies (owned by a TAP client's daughter) will be catering the event. There will also be brownie bites from Yellow Dog Bread Co.
Tickets for the fundraiser are $60 per person ($40 for TAP clients) and can be purchased at one.bidpal.net/tapfamilyreunion/welcome. Following the TAP Family Reunion, The Triangle Aphasia Project will be hosting a virtual event from 7 to 9 p.m. on June 26 that will be free for participants to watch. Additionally, the silent auction will remain open until the end of the virtual event, so individuals can bid from anywhere! Watch the virtual event via Facebook Live at facebook.com/tapunlimited.
About Triangle Aphasia Project
Triangle Aphasia Project gives hope, determination, purpose, and engagement to individuals with aphasia through group sessions, family training, and more in an effort to maximize communicative potential and reduce barriers to social re-engagement.
Learn more about Triangle Aphasia Project and how to give at aphasiaproject.org.