Harv's Journey with Aphasia and the Importance of TAP
My name is Barry Harvey. Everyone just called me Harv and for over 30 years, I have been a "lay" pastor. I used my gifts of nurturing and helping others understand the Word of God.
My life was forever changed on November 13, 2021, when I had a stroke. Initially, I couldn't speak at all and my right side was completely paralyzed and my left side was weak. I was unable to speak- barely a whisper. After realizing what had happened, I became very depressed. I didn't even want to continue living. But my wife believed in me and she continued to pray for me with my friends. After about 2 weeks, I got my confidence back and I was transferred to Wake Med in Raleigh NC. This is where I met Julia Canavan, from TAP. She invited me to the TAP Bible Study and it was such an inspiration to me because other people were there who knew what I was experiencing.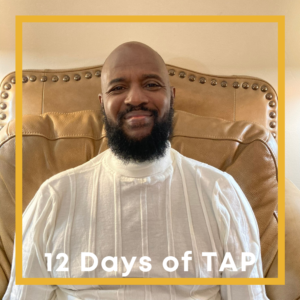 What TAP has done for me is incredible! It has allowed me to experience a great sense of community and belonging. When you have a stroke, you have a deep sense of loneliness and despair. It was great for me to have a community of people who understood what I was going through. I love TAP because every time we get together, I get encouraged, I get enlightened and I get empowered.  TAP has also empowered me to continue to use my gifts as a peer-leader in the Overcomers Bible Study Group. While I had great support from family and friends, being with my peers brought me great comfort, because I can talk freely and they can relate with what I am  talking about.
My right side is still very weak and I'm in a wheelchair. My speech has improved incredibly, but I still have weakness on the right side of my face and my voice has changed. There are days that I still get discouraged, but knowing that I have a groups of peers, gives me encouragement to carry on.
One of the things that you need, after having a stroke, is a community of people who are going to help you persevere. Weather you join the Bible Study group or some other TAP group, the community of peers is so important. TAP is filled with people who will love you and help you persevere through your daily struggles. Not every day will be full of sunshine, but the sun still shines and we've got a lot of great things to look forward to.