Tisha Shah & TAP's DEI Committee
The TAP Diversity, Equity, and Inclusion (DEI) Committee was formed to ensure that we take actionable steps to demonstrate how we celebrate and invite diversity and also to focus our commitment to providing inclusion, equity, and accessibility in all aspects of the organization. We believe each person in our community is wonderfully unique. We like to think our differences are woven together to make up the beautiful "TAPestry" that makes us a safe and welcoming space for all. We want every person who comes in contact with TAP to feel they are valued, respected, and honored for who they are. This includes group members, families, group leaders, board members, staff, volunteers, and community partners. Therefore, the committee is focused on bringing a "DEI lens" to all of our programming, events, and initiatives. We are carefully looking at all aspects of the organization while thoughtfully considering the needs of our community.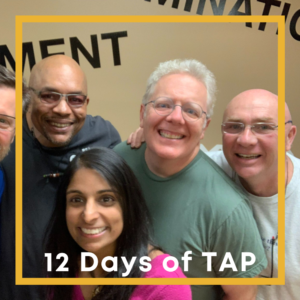 Aphasia impacts people from all races, belief systems, backgrounds, identities, abilities, and orientations, and we will continue our commitment to respectfully serving people and families from all walks of life. We are always interested in listening and learning and we invite our community members to reach out and let us know how we can better support you.
As stated on our website, "diversity, equity, inclusion, and accessibility are at the core of who we are at Triangle Aphasia Project, Unlimited. Our commitment to these values is unwavering and are central to who we are. We value, welcome, and affirm people from all backgrounds and perspectives, and we are committed to being a safe, inclusive, and collaborative community for all."