12 Days of Tap 2019: Day 9
December 18, 2019
• 0 Comment
From Client to Volunteer: A Man with a Mission to Serve
– Wyatt Nicholas –
As told by Wyatt to one of the WakeMed group leaders:
Wyatt was a 38-year-old project manager who travelled frequently for work when he had a massive stroke 8 years ago. The stroke caused partial blindness in both eyes, and aphasia. Two months after Wyatt's stroke he was evaluated for surgery at Duke hospital when they discovered that his affected arteries had healed on their own.
After leaving the hospital, Wyatt focused on exercising and losing 50 pounds.  He continues to walk and lift weights to maintain his fitness.  Wyatt believes that everyone should focus on fitness to live a healthy life, whether they have had a stroke or not.   
Wyatt also practiced reading and writing for hours each day on his own.  He went to TAP groups, learned to use technology to help him with spelling and writing, and eventually felt that he was ready to "graduate" from being a WakeMed TAP group participant.  Wyatt reached out to group leader Lina and offered to volunteer at the WakeMed TAP group.  He helps plan lunch outings for the group, assists clients in getting to the meeting space from the lobby, helps with activities, and more! 
Currently, Wyatt serves on his homeowner's association board for his condominium complex, attends and volunteers at church regularly, exercises, and hangs out with friends and family, in addition to volunteering at the WakeMed TAP group.  Wyatt feels like attending church services has been a nice way for him to see continued improvement in his speaking, listening, and reading skills since his stroke.  Because many parts of the worship service are the same each week, he can see improvement every week as he participates.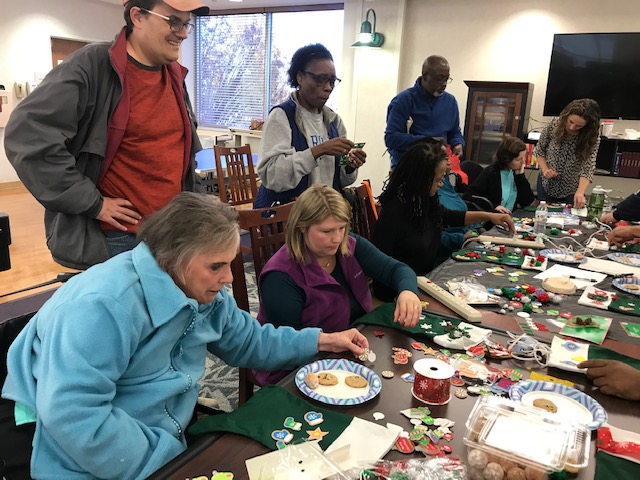 From group leaders Heather and Lina:
Wyatt consistently spends his Wednesday afternoons helping the WakeMed aphasia group. He always has a smile and friendly word for the clients. Wyatt's help transporting clients from the drop off area to the meeting space is invaluable for getting group started on time. He is the WakeMed wheelchair wrangler for those who don't bring one with them but need a WakeMed wheelchair for the long distance! He's also our "Google go-to" guy – whenever we have questions about something that we can't figure out he gets on his phone and finds the answer for us. It shows every time Wyatt volunteers that he wants the group members to continue to challenge themselves and succeed.
---
From the TAP Home Office:
When you think of a stroke, what age group naturally comes to mind? 70's, 80's…perhaps a grandparent or elderly neighbor? Sure, TAP has clients that are well seasoned and have found themselves on an aphasia journey during their retirement years…but our average age is actually 47 years old! Yes, you heard me (read me) right…47! With clients as young as 18, several in their 20's and early 30's and many in mid-life, TAP understands the devastation of role changes and the high priority these individuals put to returning to work and to meaningful social engagement.
Wyatt's stroke and subsequent aphasia had him challenging himself as a TAP client, but he didn't stop there. He came back to us…but this time as a volunteer. Verbally fluent and understanding that challenging his speech by volunteering was only one of the benefits of being a part of a TAP group in this capacity. Wyatt is now an integral part of the functioning of this group and you will love hearing his story.
Thank you Wyatt! For all you do!