12 Days of Tap 2020: Day 9
December 21, 2020
• 0 Comment

Zoom TAP meetings: Possibilities Abound
– Louis Pate –
Maura's Intro:
Covid-19 has kept people apart…and wait…it's also brought people together. Being able to see the silver lining of this global pandemic often requires one to recognize new opportunities and seek out topics and activities of interest. When TAP groups shifted, we worried about losing loyal attendees and how individuals would adapt to this new and changing landscape. But our TAP clients are known for their determination and as we watched clients "pop into" new groups…we saw possibilities open up!
It was clear that Louis would enjoy a conversational group… he is extroverted, social and has an innate gentle character that is magnetic to all who know him. Louis joined in groups that were based on conversation, movies/TEDTalks, music and even meditation. Louis sits aside his wife, Joyce, but relies on her only for visual prompts. He has gained confidence in his communication and is consistently welcoming and passionate about aphasia advocacy.
Louis and his wife participate in our Meditation group, led by Joelle Rogers, our meditation and yoga guru, as well as another fierce stroke survivor.
Enjoy.
---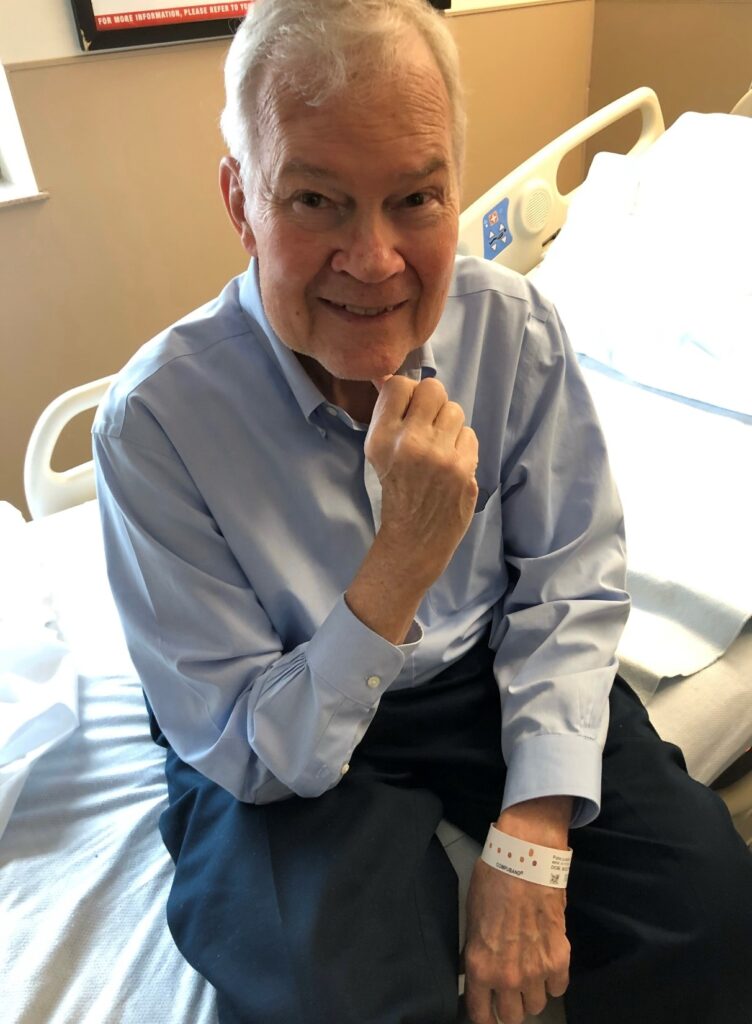 Louis (Client):
Little did I know what was about to change my life 2.5 years ago! After many years in politics a hemorrhagic stroke left me with limited vision and expressive aphasia. Talk about discovering a whole new world! 
We live an hour's drive from the triangle area, but after my initial therapy we discovered a group of helpers who were available to help me continue my therapy. We took advantage of two groups—a conversation group in Clayton and a book club in Cary. I was an active member until the pandemic hit. That was another sudden thing! 
The facilitators were so nice to call and check on us and even sent masks. They were the ones who encouraged us and told us we should get involved with the Zoom groups. That was not something we were used to. Sometimes I have to stop and think and remember I'm not going to a meeting. I'm in a meeting at home and the other people are in their homes, but we are all together. I'm at home, but yet I'm otherwise. 
The groups in TAP are very welcoming and dynamic people, and that has been very helpful to me. Some of them are well beyond my abilities, and I have enjoyed getting to know people like that from all over. It's stimulating to have people of various backgrounds gather. We're from all walks of life, but we're all responding in our way to what has been laid upon us. There are a lot of things lacking because we're all recovering and because of the pandemic, but we are meeting to attempt to make up for those things. We're battling two different things together. 
The therapists and facilitators are top notch and very qualified. They do a good job of dealing with the differences among the groups and make sure everyone is engaged and participating. A lot of them are volunteers and give of their time to help. That means so much. 
I have especially enjoyed the music, Bible study, and book groups. Music is very entertaining and important to me. I used to sing in a community group and my church choir. The music gives me a way to express myself and continue to do something I love. The Bible study group is full of believers who have different backgrounds and ideas, but we all tend to agree with each other's responses. We support each other and pray for each other. In our book club we read interesting books that I wouldn't have read otherwise. Beneath A Scarlet Sky by Mark T. Sullivan was fascinating to me. I was in the Air Force for 20+ years and am a Vietnam Vet. The book helped me visualize war from a different point of view. It was so realistic–a marvelous book! 
 Another great group is the meditation group. Joelle has very calming directives that give us all a sense  of relaxation. 
TAP helps me so much. There are certain places in your mind where you don't really want to get deeply involved, but you realize if you don't then you are going to miss out on something. TAP makes me work and think. It makes me realize that I missed some things and helps me expand my horizons.
Joyce (Louis' wife):
As a "helicopter spouse" – a totally new role for me – I'm grateful for the opportunity to participate in the Care Partners Support Group.  At this point I cannot imagine life without TAP; what a blessing you are to us! 
---
From the TAP Home Office:
TAP Unlimited's End of Year Campaign provides TAP Stakeholders an opportunity to embrace the reason for our efforts and hear from those who have been impacted by aphasia. Aphasia, as you know, can be a devastating impairment resulting in social isolation, depression and disengagement from the passions and purpose of an individual's life. It can interrupt a career, destroy plans for retirement and threaten relationships. TAP Unlimited is embarking on its 18th year of service to those effected by aphasia across the Triangle and beyond.
Our ability to pivot and create a virtual world of connection possibilities, to stay afloat and to even thrive, has been, in no small way, a result of the generosity of our donor base. Today, we ask that you continue to support TAP by doing the following:
Share this story. Share it on your social media, in emails to your family/friends and to those you work with…it will increase awareness of Aphasia and provide hope to those who feel alone in this journey.
Consider an end-of-year gift to TAP. You can donate online and make it a gift by honoring someone on the aphasia journey.
Donations can also be mailed in the form of a check or a donation of stock. Email us for more information.
Thank you for your faith in our organization and for supporting the 12 Days of TAP!