12 Days of Tap 2019: Day 12
December 18, 2019
• 0 Comment
Good News Travels by Word of Mouth
– Sherron and James "Butch" Williams –
October 31, 2012 was the beginning of a new norm for our family and especially my husband Attorney James "Butch" Williams. We were blessed to learn about Maura Silverman and TAP through my daughter's close friend Alexis Greene. Olivia, our daughter, shared this life altering experience with Alexis who then shared that her mom also had a stroke.
We are so thankful for God's timing. Alexis was able to give her personal insight, hope, and validate Olivia's concerns and feelings. Within days after the Butch's stroke, Dwayne Greene, Alexis' dad called me. He said, "You don't know me, but our daughters are friends and I know your husband. My wife, Kim, had a stroke so I know what you are going through. If you ever need encouragement, a sounding board and more importantly resources, I know the person and place you should call."
That was the beginning of a new friendship for life. Dywane proceeded to tell me about Maura and the work she does for people diagnosed with aphasia. He said she was very busy and did not know if Maura could take us on as clients. However, when I called Maura, Dywane had already spoken to her and she immediately asked, "When can I come and evaluate your husband?"
Maura came within days. She was heaven sent. I had never met anyone like her. Her passion, knowledge, and heartfelt emotions about what the client and their family are going through were unmatched. Her enthusiasm and excitement about how she could help Butch was nothing less than God sent. My friendship with Maura and the respect we have for one another has only continued to grow over the years. It started with her visiting our family at our house and her leaving my neighborhood and getting a flat tire. I changed the tire for her. She never looked at me quite the same after that.
When Maura agreed to take Butch on as a client, the light at the end of the tunnel started to get brighter. Butch is a criminal defense attorney who has a passion for trying cases. He's always loved a good fight in the courtroom. Additionally, he is a Sports and Entertainment attorney, was a professor at NCCU School of Law, and is very supportive and active with organizations that help local youth.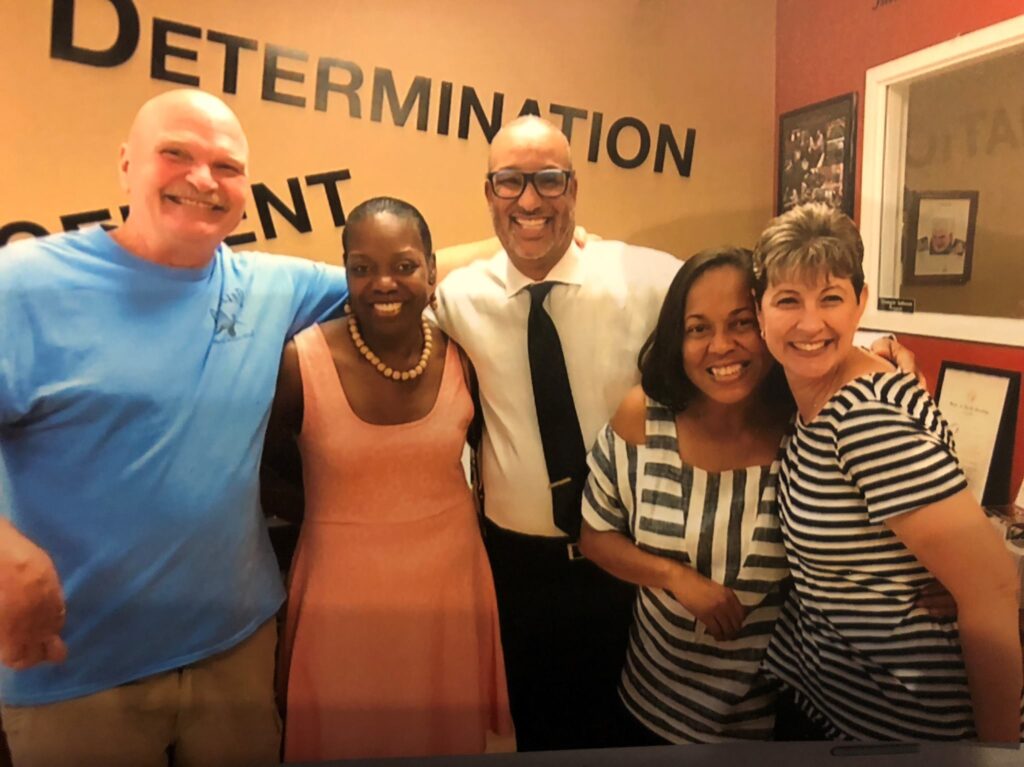 As you can probably imagine, suffering from a stroke that impaired his speech abilities was devastating. Butch was no longer able to try cases, to speak in public, to recruit athletes and to express his everyday concerns and joy. Butch was constantly on the move from NFL games, Super Bowls, All Star Games, concerts… you name it, he had his hands in it.
After the stroke and therapy with Maura, we decided to go to Chicago for some intense therapy, 8 hours a day, which was great. However, it was imperative that once we returned we continued attending TAP so that Butch would not digress. We continued with Cary's TAP group until they started a group at Duke Regional which is much closer to our home. Butch loves the extended family and life long friendships that he has developed over the years.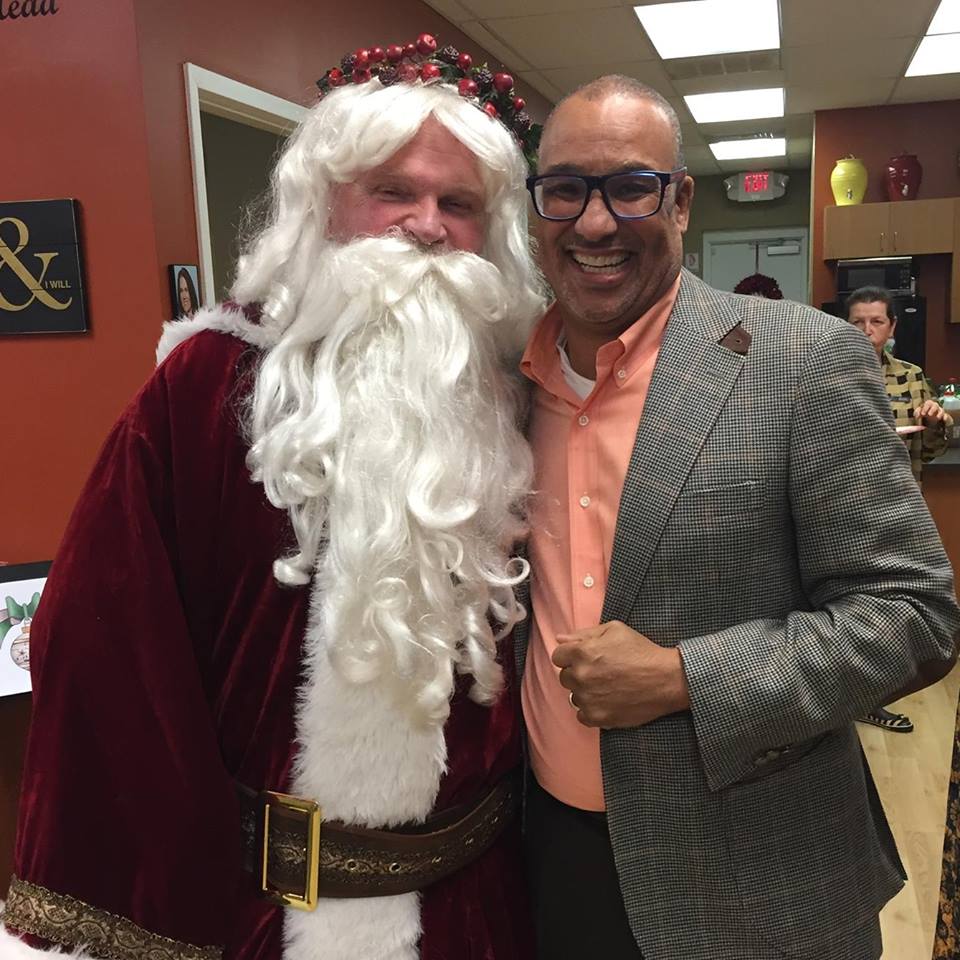 I guess my article is really a testimony about TAP being an important part of our lives, how God extended His grace and mercy through TAP and the wonderful people who work and volunteer there.
Butch is back in the courtroom sitting at the table advising his attorneys, traveling on his own, has finally decided to download UBER, and is back speaking to students and clients. Although it is not the same as before, he's "still in the game" as he would say.
Thank you TAP for your love, never ending support and friendship.
– Butch and Sherron ("The Wife" as he calls me)  
MERRY CHRISTMAS FROM THE WILLIAMS FAMILY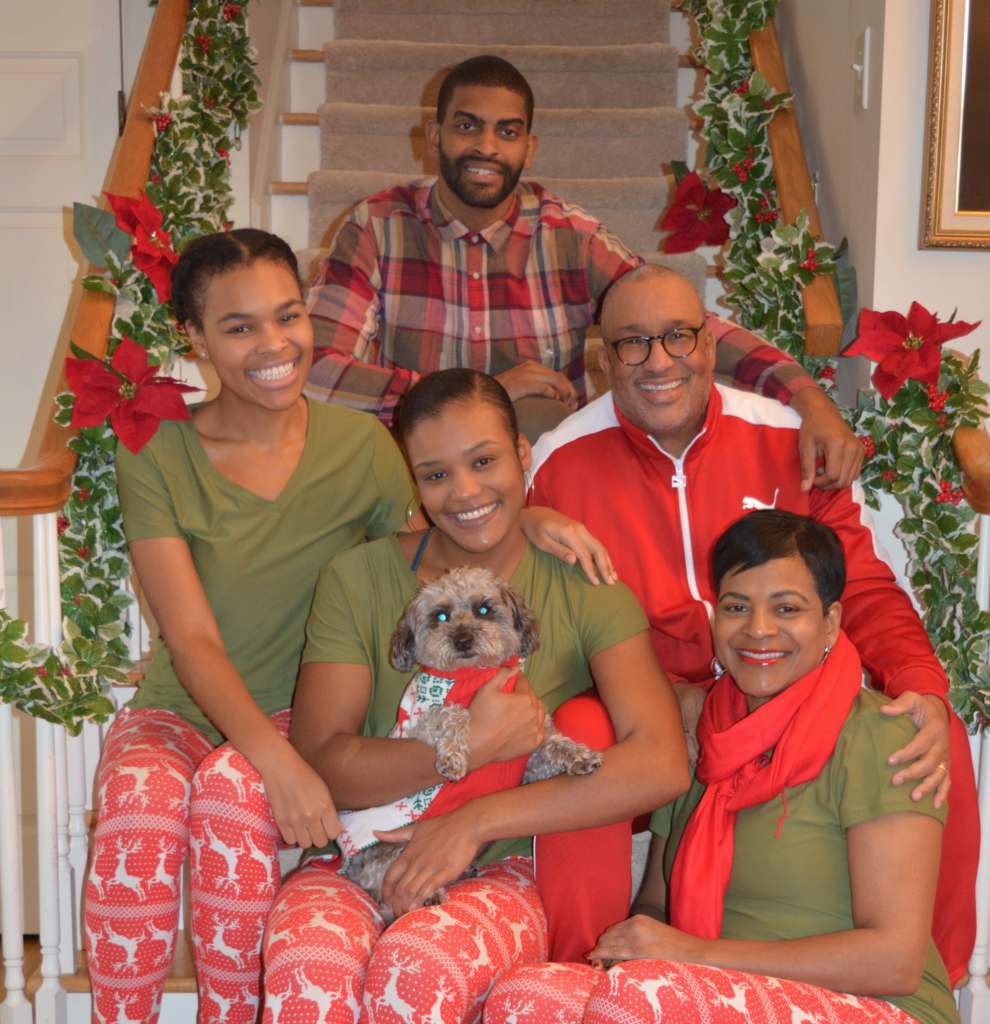 ---
From the TAP Home Office:
"Hey, it's Butch…I know this friend/guy/young lady/etc. who had a stroke.  Let's help them."  This is the phone call I receive every month or so from TAP client, advocate and supporter, James "Butch" Williams when he hears of someone who is out in the community starting on the road that he traveled years back.  With the incredible family Butch has, he was blessed with abundant love and support, but he also knows how frightening and isolating aphasia can be.  His commitment to connecting others with aphasia, providing them hope and guidance, and directing them towards services is truly a gift.  His own personal drive to return to the courtroom, to his sports work and community service work reveals values consistent with those on TAP's wall: Hope, Purpose, Determination and Engagement.  Winner of TAP's Kim Riley Life Participation Award, Butch accepted every challenge, every strategy we could, collectively, think of and has done this stroke recovery journey with persistence and gratitude.   
It's not surprising that the force behind this great man is a great woman. Sherron Williams, "the wife" as she is lovingly introduced, embraced TAP's mission from day one and has been consistently supportive of the organization.  From inviting dozens of people to TAP fundraisers, generously sharing our stories and even making and wearing a "Got Aphasia?" scarf for awareness,  Sherron has been a blessing to TAP, and to me personally.   Her guidance and counsel is genuine and filled with faith that our purpose in this community is essential.  She has always been there to fill me up (quite literally, as you will learn in this story) and I know, without question, the blessing it has been in my life.   
Thank you to Butch and Sherron for sharing their aphasia/TAP story.  And, by the way, if you ever want to know if this charismatic attorney is in your group…wait for his arrival and the group's collective chant of "Buuuuuutch!"  (TAP:  Sometimes you want to go, where everybody knows your name, and they're always glad you came!")