12 Days of Tap 2019: Day 1
December 14, 2019
• 0 Comment
The Renewed Joy TAP Has Given Derry 
– Derry F. Washington –
Derry Washington was living life to the fullest when out of nowhere on January 28, 2014 he suffered a Massive Stroke. To God be the glory for sparing his life.  The stroke left him with hemiparesis and Aphasia. 
 
He was surrounded by his family and friends that helped him survive his new reality.  Derry was transferred CICU to Intensive therapy at WakeMed for six weeks, then discharged with no home to go to.  At 55, he was admitted into the nursing home, bedridden and wheelchair bound where he stayed for 90 long days. 
 
Later, his ex-wife assisted him and brought him home with her.  Prior to the stroke, these two had been inseparable; life happened and they went their way.  Lori heard about Derry's stroke and was determined to help this good man.  This shows that good things happen to good people.  And, TAP is definitely the finishing touch Derry needed.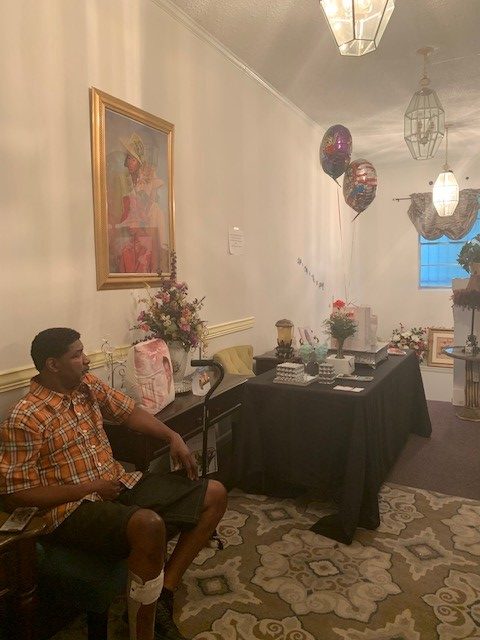 As they were in search of therapy programs that would positively impact Derry's life, one of Derry's therapists suggested TAP to Derry.  Marsha Rodriguez expressed how beneficial Tap would be for Derry and his family.  Boy was she right! 
 
Derry and Lori Washington, through TAP, have been afforded a renewed joy. Derry has made friends with people that understand him, accept the beauty of who he is, and respect him as an individual and not see him as a "handicapped man that walks with a cane that people think cannot talk well!" TAP gives this man a great confidence and affirmation that his healing is within his reach. 
 
Lori has a very demanding job as the Owner and Operator of several Funeral Homes.  But, TAP allows her to be able to leave Derry with his new family while she works.  She can return to pick him up and see the joy in his eyes as he appreciates each TAP meeting the participants share together!
Thanks to the facilitators, therapists, program coordinator and all involved.  Grace, Peace, Healing and Blessings during this Merry time of Year. 
– a conversation with Derry submitted by Rev. Dr. Lori Chappell-Green Washington  
---
From the TAP Home Office:
Today is the first day of our 12 Days of TAP campaign!
It is only fitting that Derry is the one to kick off this exciting tradition that we have here at TAP Unlimited.  After all, Derry has been attending the WakeMed Wednesday Aphasia group for the longest of any of the participants and sits at the head of the table… the "head of the TAP WakeMed group Family".  Derry cares deeply about his TAP family, making new clients feel welcome and worrying about anyone who might be absent on a particular day.  He has a wonderful sense of humor and an infectious smile.  And his fashion sense has earned him a title of a dapper-Derry! Derry's wife, Lori, and their family have been consistently supportive of TAP, jumping at the opportunity to share today's inaugural story. 
Thank you Derry and Lori for your faith in our program and passion for our mission!